Welcome to the world of Jinty James, cozy mystery writer!
If you would like to discover when the next Maddie Goodwell mystery will be published, please sign up to my newsletter below!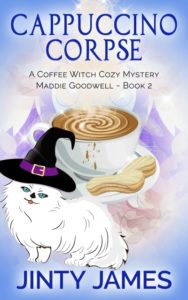 BRAND NEW RELEASE! MAY 2017
A full-length mystery – recipe included!
Maddie, Trixie (her Persian cat who might be her familiar) and Suzanne (Maddie's best friend) operate Brewed from the Bean, a specialty coffee truck in Estherville, a small town in Washington State.
The local coffee festival has people buzzing – but for all the wrong reasons. When an obnoxious radio personality is murdered, all signs point to Maddie being the culprit!
Maddie, Trixie, and Suzanne are determined to clear Maddie's name, and investigate their fellow competitors.
But with only two spells under her belt, can Maddie unmask the killer? It will take the combined efforts of the trio to discover who the murderer is – before it's too late!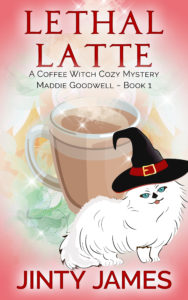 Can a witch who can only cast one spell solve a murder?
Maddie Goodwell, Trixie, her Persian cat (who might also be her familiar), and Maddie's best friend Suzanne Taylor, run their coffee truck, Brewed from the Bean, in the small town of Estherville, Washington state.
Maddie always thought it was a sleepy kind of town, apart from the fact that when she was seven, she found an ancient book, Wytchcraft for the Chosen.
Now, twenty years later, she can only cast one spell successfully from the book – the coffee vision spell.
But when she peeks into Joan's future – one of her regular customers – she sees the middle-aged woman lying dead in the kitchen!
When the vision comes true, Maddie is determined to investigate – with the help of Trixie and Suzanne.
Who would want to kill Joan? Why?
And will they be coming after Maddie next?
This is a cozy witch mystery of approximately 24,500 words.
About the Author:
Jinty James grew up reading Enid Blyton's Famous Five and Secret Seven mysteries, as well as all the Nancy Drew and Trixie Belden books. Later on, she graduated to mysteries written by Agatha Christie, Elizabeth Peters, and many other authors. It was her dream to one day write her own cozy mystery, and now she has, with plans for many more.