Welcome to the world of Jinty James, cozy mystery writer!
If you would like to discover when the next Maddie Goodwell mystery or the next Norwegian Forest Cat Cafe Mystery will be published, please sign up to my newsletter below.
I do not spam. Your email address will be stored at https://MadMimi.com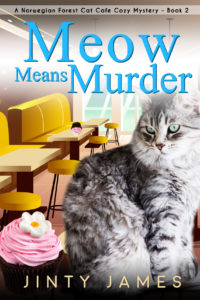 A Brand New Series!
Meow Means Murder – A Norwegian Forest Cat Café Cozy Mystery – Book 2
A gorgeous Norwegian Forest Cat, a cat café, a food critic, and … murder!
The small town of Gold Leaf Valley is aflutter with a food critic's arrival. His online column has made him famous in this part of Northern California, but not everyone is pleased he's in town.
When café owners Lauren Crenshaw and Annie, her silver-gray tabby, stumble across his body, what should they do? Investigate the crime themselves? Or … leave it to the police?
Is Lauren under suspicion for delivering pastries to the dead man's motel room? Or did his intern bump him off in order to gain a promotion?
Lauren's cousin Zoe is keen to help investigate the crime. But are there too many red herrings in this case to uncover the truth?
Zoe is also busy turning knitting club into knitting/crochet club and teasing Lauren about her budding romance with the attractive Detective Mitch Denman.
Can the trio uncover the truth about the food critic's death – before the killer strikes again?
This is a fun, clean, cat cafe cozy mystery with female amateur sleuths – and a beautiful Norwegian Forest Cat!
Available at:
Barnes and Noble, Kobo, Apple (one link will take you there!)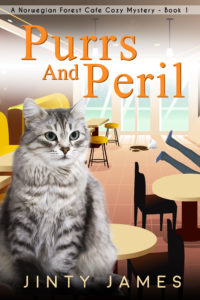 Purrs and Peril – A Norwegian Forest Cafe Cozy Mystery – Book 1
A cat café
Murder
Who is the killer?
 Lauren Crenshaw and her Norwegian Forest Cat Annie run their own certified cat café in the picturesque small town of Gold Leaf Valley, Northern California. Lauren's fun cousin Zoe helps out as well.
Lauren, Annie, and Zoe are shocked when one of their favorite customers is poisoned. Steve came into the café nearly every day – but who wanted him dead?
The trio find themselves suspecting their customers – even elderly Mrs. Finch, whom Lauren thinks of as a substitute grandmother, doesn't escape their scrutiny.
The new (and attractive!) police detective warns them off the case. But Annie, the Norwegian Forest Cat, seems to have a nose for sniffing out trouble.
Can Lauren, Annie, and Zoe catch the killer before the killer catches them?
Apple, Barnes and Noble, Kobo – one link for all three!
Incantations and Iced Coffee – A Coffee Witch Cozy Mystery – Maddie Goodwell 6
Can Maddie, Trixie, and Suzanne solve another murder (with a little magical help) before it's too late?
The whole town of Estherville seems surprised when Veronica, a woman with a bad reputation, returns to visit her cousin Claudine. Nobody seems happy to see her.
But who hated her enough to kill her? Maddie, Trixie, and Suzanne can't decide which of their customers have murder in their heart – until they come face to face with the killer!
This is a clean cozy cat mystery with humor, a little magic, and Trixie, the most adorable Persian familiar ever!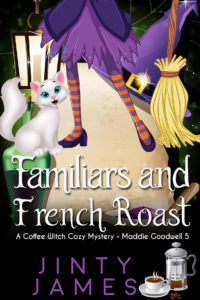 Familiars and French Roast – A Coffee Witch Cozy Mystery – Maddie Goodwell 5
Can Maddie's witchy abilities help her unmask a killer?
Maddie, Trixie, and Suzanne have an exciting side job planned for the weekend – catering at a self-help retreat!
But when a storm brews and the electricity is cut off, they start to have second thoughts. They're trapped in an old house with six strangers … 
Disaster strikes – one of the attendees is murdered! Can the trio discover who did it?
Will the full moon help or hinder Maddie? Can she find a new spell in Wytchcraft for the Chosen that will aid their investigation?
Or will she run smack dab into the murderer, totally unprepared for what happens next?
Recipe Included!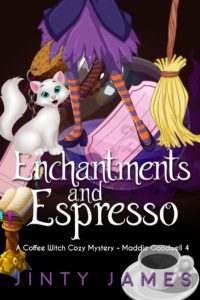 Enchantments and Espresso – A Coffee Witch Cozy Mystery – Maddie Goodwell 4
Can Maddie use her witchy powers to save her best friend Suzanne?
Recipe Included!
When witchy barista Maddie, Trixie (her Persian familiar), and best friend Suzanne take on their first catering job, they didn't expect to encounter murder!
But that is exactly what happens when they provide the espressos and health balls for their friends' going into business party.
Nobody liked the victim – including Suzanne. But when she's accused of murder, Maddie and Trixie will have to use their supernatural powers to make sure the real killer is discovered!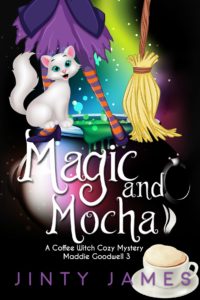 Magic and Mocha – A Coffee Witch Cozy Mystery – Maddie Goodwell 3
Drowned in a vat of bubbling mocha. Can Maddie prove it was murder?
Recipe Included!
Maddie is all set to compete in a big barista competition in Seattle, when tragedy strikes. The elegant female judge is found dead, drowned in a big vat of bubbling mocha!
Requested by the police to stay in Seattle overnight, Maddie and Suzanne are determined to discover who the murderer is.
But once they return home to Estherville, will it really be that simple? The full moon means another spell is revealed to Maddie, but is it one that will help her catch the killer?
What will happen when she returns to Seattle the following weekend to finish competing? Is Maddie next on the killer's list? And what about Trixie, Maddie's familiar? Will she be able to help Maddie from one hundred miles away – at home in Estherville?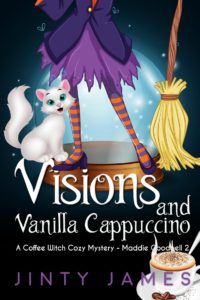 Visions and Vanilla Cappuccino – A Coffee Witch Cozy Mystery – Maddie Goodwell 2
A full-length mystery – recipe included!
Maddie, Trixie (her Persian cat who might be her familiar) and Suzanne (Maddie's best friend) operate Brewed from the Bean, a specialty coffee truck in Estherville, a small town in Washington State.
The local coffee festival has people buzzing – but for all the wrong reasons. When an obnoxious radio personality is murdered, all signs point to Maddie being the culprit!
Maddie, Trixie, and Suzanne are determined to clear Maddie's name, and investigate their fellow competitors.
But with only two spells under her belt, can Maddie unmask the killer? It will take the combined efforts of the trio to discover who the murderer is – before it's too late!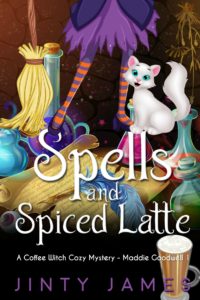 Spells and Spiced Latte – A Coffee Witch Cozy Mystery – Maddie Goodwell 1
Can a witch who can only cast one spell solve a murder?
Maddie Goodwell, Trixie, her Persian cat (who might also be her familiar), and Maddie's best friend Suzanne Taylor, run their coffee truck, Brewed from the Bean, in the small town of Estherville, Washington state.
Maddie always thought it was a sleepy kind of town, apart from the fact that when she was seven, she found an ancient book, Wytchcraft for the Chosen.
Now, twenty years later, she can only cast one spell successfully from the book – the coffee vision spell.
But when she peeks into Joan's future – one of her regular customers – she sees the middle-aged woman lying dead in the kitchen!
When the vision comes true, Maddie is determined to investigate – with the help of Trixie and Suzanne.
Who would want to kill Joan? Why?
And will they be coming after Maddie next?
This is a cozy witch mystery of approximately 24,500 words.
About the Author:
Jinty James grew up reading Enid Blyton's Famous Five and Secret Seven mysteries, as well as all the Nancy Drew and Trixie Belden books. Later on, she graduated to mysteries written by Agatha Christie, Elizabeth Peters, and many other authors. It was her dream to one day write her own cozy mystery, and now she has, with plans for many more.